Trusted by:




Are you ready to boost your marketing game?
Increase your conversion up to 30% using BuyerCall
Increase Conversions by Quickly Connecting Consumers with Your Best Representatives using BuyerCall's conversion tools. BuyerCall makes marketing easier and more profitable.

With over 10,000 successfully leads captured & processed makes BuyerCall the preferred marketing expert for many automotive companies. Would you like to boost your marketing effort? Join the BuyerCall family today!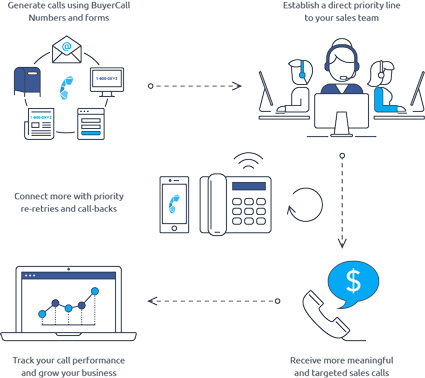 We have an arsenal of conversion solutions.
---
BuyerCall Priority Call Routing
Route call leads as priority, simultaneously or in sequence, directly to your sales team, individually or as group.
BuyerCall Lead Response
Respond to your website form leads immediately by triggering calls to your sales team as soon as a form is submitted.
BuyerCall Outbound Calls
Initiate calls from the dashboard between a lead and any sales person. Take control and quickly respond to missed opportunities.
---
BuyerCall Call Widget
Place call-for-action widgets on your website and generate more quality calls instantly.
BuyerCall Call Tracking
Track, learn and improve your marketing efforts and call quality using BuyerCall call tracking.
BuyerCall Reporting
Track your marketing performance and understand where and how you are receiving your lead calls.
---
Our solutions are feature packed.
phone
Local & Toll Free numbers
Secure any any US local or toll-free number.
Included in:
timeline picture_in_picture web device_hub call_made
arrow_forward
Call Forwarding
Forward calls to one or multiple phone numbers instantly.
Included in:
timeline picture_in_picture web device_hub
call_split
Custom Routings
Route calls simultaneously, in sequence or randomly.
Included in:
picture_in_picture web device_hub
people
Agents & Groups
Route your calls to single agents or groups.
Included in:
picture_in_picture web device_hub call_made
voicemail
Voicemail
Setup voicemail for after hours or if unavailable.
Included in:
timeline device_hub
hearing
Custom whispers & Prompts
Optimize calls with custom whispers and prompts.
Included in:
timeline picture_in_picture web device_hub
autorenew
Auto Attendant
Create phone trees and guide callers to the right person.
Included in:
device_hub
font_download
ADF Integration
Generate calls from forms or send calls to your CRM with ADF.
Included in:
timeline picture_in_picture web device_hub
music_note
Custom hold music
Play custom hold music or messages to the caller.
Included in:
timeline device_hub
mic
Call recording
Record and improve call quality with call recording.
Included in:
timeline device_hub picture_in_picture web
settings
Call retries
Retry calls to your team while caller is still on the line.
Included in:
device_hub
settings_phone
Call-backs
Setup call-backs for missed calls at different time intervals.
Included in:
device_hub
Manage and improve your calls with a user-friendly application.
We understand to improve your call lead conversion you need to access to the necessary tools. Our application is user-friendly and packed with features. Improve your call conversion in matter of minutes with a few clicks.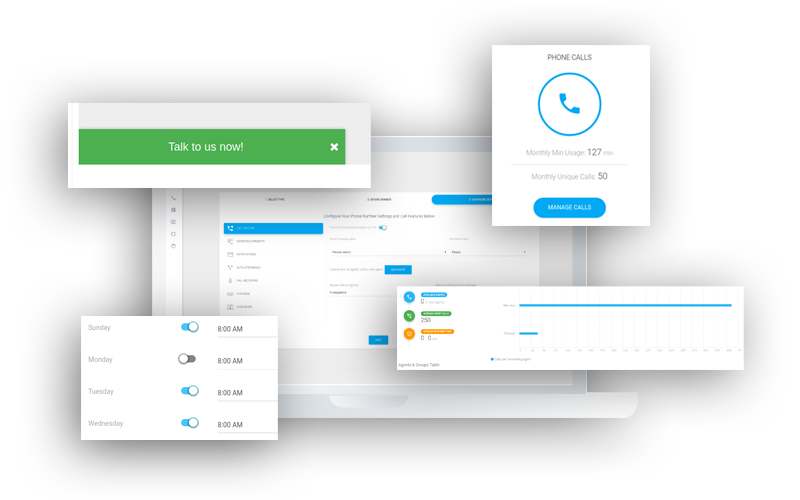 With us the features keep coming.
API access
Access and integrate BuyerCall functionality seamlessly using the BuyerCall API.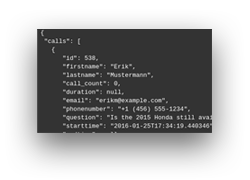 Smart scheduling & hours
Control your calls and availability with agent or team scheduling and after hour settings.
White label partnerships
Partner up with us and use BuyerCall as your own labeled product and increase your revenue.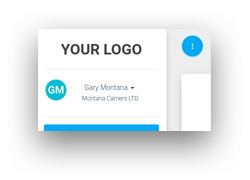 Block numbers
Prevent spam or bad quality leads by blocking phone numbers you want to avoid calls from.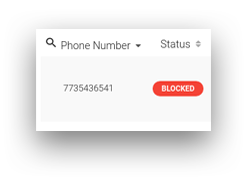 Case Study: Why Autosave123 loves Buyercall.
Autosave123 is able to provide vehicle owners with the opportunity to reduce their monthly car payments by identifying and processing lower interest rates for them.

BuyerCall was responsible for ensuring a professional user experience that portrayed confidence. With our responsive landing pages and application forms, We were able to set up lead conversion workflows and 3rd party API integrations.
Solutions used by Autosave123:
timeline device_hub picture_in_picture web
format_quote
BuyerCall changed how we operate helping us increase our leads and conversion by 30%. Will recommend this service in a heart beat!
We exist because of the facts.
32%
Of all calls made are missed.
100X
likely to close if you answer within 5 min.
20sec
for BuyerCall to connect you to your prospect.
Pricing plans made for growth.
We have a set of affordable pricing plans. Please choose one or contact us for any custom needs you might have. You have Free Unlimited Updates and Premium Support on each package. You also have 20 days to request a refund if you're not happy with your purchase.